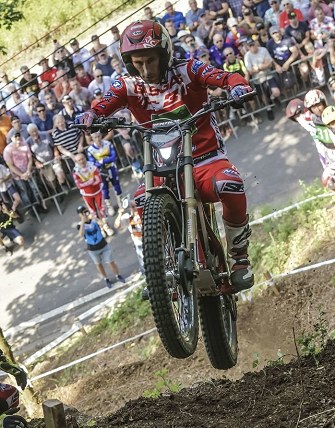 While Toni Bou continues to dominate the TrialGP class, Albert Cabestany made it back to back wins in the TrialE Cup classToni Bou (Repsol Honda) kept his win-streak going at round four of the 2019 FIM Trial World Championship with a come-from-behind performance at TrialGP Belgium at Comblain au Pont today as Albert Cabestany (Gas Gas) sewed up the TrialE Cup for the Spanish manufacturer for the third consecutive time.
The Spaniard, who is unbeaten so far this season as he bids for a 13th straight World title, was pushed hard all day by Jeroni Fajardo (Gas Gas) who actually led after the opening lap on 18 compared to Bou's score of 21.
But, as we've seen so many times before, when the going gets tough then Bou gets going and his second lap total of just 11 was good enough for him to come home three marks ahead of his fellow countryman once a single time penalty for both riders was taken into account.
It was a dramatic end to a close-fought day of competition with Bou only securing the victory with a clean on the very last section of the trial, a perilous rocky climb that had the fans on their feet as he powered his way to the top.
"I am very happy with my second lap," said Bou. "I was pushing very hard with no mistakes and made sure of the win in the last section. This is an important victory for the championship."
The sections – plotted over huge rocks in a quarry and on steep, unforgiving hillsides on the outskirts of the town – were extremely tough in the dry and dusty conditions under a scorching sun and third-placed Adam Raga (TRRS) couldn't compete with the form of the top two, finishing just one ahead of Japan's Takahisa Fujinami (Repsol Honda) on 72 before a five-mark gap to Jaime Busto (Vertigo).
Following on from his win last weekend at TrialGP Netherlands, Cabestany ran out a comfortable victor in the TrialE class for electric motorcycles with his final score of 12 a long way ahead of second-placed Kenichi Kuroyama (Yamaha) who dropped 34 with Gianluca Tournour (Gas Gas) taking the final podium place on 66.
"I'm really happy with today and the whole championship," said Cabestany. "The bike has worked amazingly and I'm really enjoying riding it. It has been a great experience for me and I want to thank the whole team for supporting me."
After his shock defeat last week in Holland, Italy's Matteo Grattarola (Honda) refound his form to run out a clear winner in Trial2 and re-establish his grip on the championship lead. The defending champion ended the day on top of the podium on 32, a full 17 marks clear of Britain's Toby Martyn (Beta) in second with Spain's Gabriel Marcelli (Montesa), who won last time out in Holland, in third on 54.
"I was well focussed and I had a good run," said Grattarola. "I'm very happy with the bike and how the team works. This victory is very important for me because it allows me to take a further three points lead.
"The goal will be to get to the final round with the biggest lead possible and not have the same pressure as last year."
Trial125 leader Kieran Touly (Scorpa) also had to make amends after losing his unbeaten record in Holland and the French teenager brought his 'A' game to Belgium, extending his championship lead with a winning score of 42 beating Austria's Marco Mempoer (Beta) into second by 13 marks.
"I am really very happy with this victory after a big disappointment in Holland," he said. "My dream is to be World Champion and I will keep working hard to achieve this."
Carlo Alberto Rabino (Beta) was third and the Italian teenager drops to third in the championship as a consequence.
The best Trial riders on the planet now get a two-week break before reconvening at Gouveia for TrialGP Portugal on July 13-14 where TrialGP Women and Trial2 Women will also be in action alongside the TrialGP and Trial2 classes.
pdf Download TrialGP Results (342 KB)
pdf Download Trial2 Results (354 KB)
pdf Download Trial125 Results (342 KB)
pdf Download TrialE Cup Results (230 KB)
Images: P. Segales