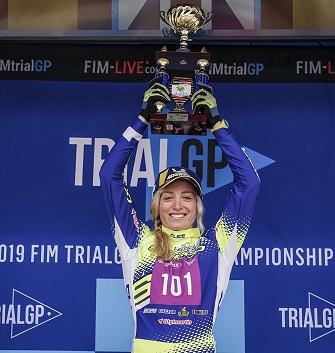 2019 marks the sixth consecutive world title for Britain's Queen of TrialSublime Spaniard Toni Bou (Repsol Honda) signed off on top to make it a perfect season with seven wins from seven starts at the final round of the 2019 FIM Trial World Championship at a hot and humid TrialGP Spain today. But with Bou's 13th-straight title already secured last time out at TrialGP France at the end of July, the global media focus was centred on the TrialGP Women, Trial2 and Trial2 Women categories that were still up for grabs heading into La Nucia.
Bou did what he does best – that's win – while Britain's Emma Bristow (Sherco) secured the TrialGP Women title for a sixth consecutive time with an unbeaten season of her own, Gabriel Marcelli (Montesa) from Spain snatched the Trial2 championship from Italy's defending champion Matteo Grattarola (Honda) and Vivian Wachs (TRRS) from Germany did enough to claim the Trial2 Women crown on a tie-break.
Conditions just north of Benidorm on the Mediterranean coast were dry and dusty and Bou, as expected, looked completely at home. Following his dominance of yesterday's Qualification session he had the advantage of starting last and he converted this into a convincing victory, despite incurring an additional eight time penalties. The sections – a mixture of man-made and natural obstacles – were super-tough and Bou collected three maximums on his opening lap but at the halfway stage he still led on a total of 17 with his compatriot Adam Raga (TRRS) next best on 24. Then, as we've seen so many times before, when the going gets tough then Bou gets going and his lap-two total of just 11 saw him run out a convincing winner with an eventual victorious margin of seven over Raga who picked up four marks on time.
"Today has been very difficult," said Bou. "I was pushing very hard to win and it was easy to make mistakes today. I think this has been the best season in my career. I have had many victories but this has been the year I will remember as the one I had the greatest form."
Veteran Japanese rider Takahisa Fujinami (Repsol Honda) secured his fifth podium finish of the year – just one mark ahead of Spain's Jeroni Fajardo (Gas Gas) – to take third in the championship although he was 21 marks adrift of Raga on the day after incurring two time penalties. Fajardo's 11 time penalties proved to be expensive but he still finished two marks in front of fellow Spanish rider Jaime Busto (Vertigo) in fourth.
After dominating the opening four days of competition in the TrialGP Women class, Bristow – who hasn't been beaten since the final round of 2017 – was in complete control and ended the day eight marks ahead of Berta Abellan (Vertigo) on a total of 28. The Spanish rider was still in contention following the opening lap and was just one mark adrift before Bristow's commanding second lap of 12 sealed the deal. "It was easy to make a mistake today," said Bristow, "especially as it was so steep so I'm pleased to win. I didn't have the winning margin I would have liked but I will be pushing hard next season. Today I have taken my sixth world title and while it's hard to keep winning I'm really pleased."
Sandra Gomez (TRRS) from Spain took third on the day and third in the championship behind Abellan with Germany's Sarah Bauer (TRRS) doing just enough to take fourth by one mark from Norwegian rider Ingveig Hakonsen (TRRS).
Heading into the event only one point behind Trial2 defending champion Grattarola, Marcelli had home advantage and he ran out a four-mark winner from Luca Petrella (Beta) from Italy to take the title as Grattarola slipped up to end the day in fifth behind the Spanish pairing of Aniol Gelabert (Scorpa) and Francesc Moret (Honda).
In Trial2 Women Vivian Wachs (TRRS) was unbeaten heading into Spain and although she dropped to fifth at La Nucia she takes the title on most wins from Alice Minta (Scorpa) who tied her on total points but finished the day in Spain in second, two marks behind her fellow Britain Alicia Robinson (Beta) with France's Caroline Moreon (Sherco) another two off the pace in third. "It's been very hard for me," said Wachs. "The ground was very slippery but although I didn't win today I'm very proud to be the champion."
pdf Download TrialGP Results (341 KB)
pdf Download Trial2 Results (353 KB)
All Series Results & Final Championship Standings
pdf Download TrialGP Women Results (342 KB)
pdf Download Trial2 Women Results (344 KB)
All Women's Series Results & Final Championship Standings
Images: P. Segales