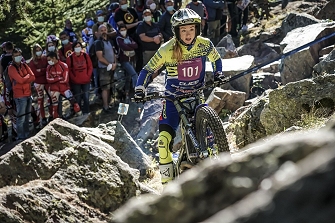 Superstar Spaniard Toni Bou (Repsol Honda) picked up where he left off at the end of 2019 with a spectacular performance at TrialGP France – the opening round of the 2020 Hertz FIM Trial World Championship – staged at the Alpine ski resort of Isola 2000.
In the TrialGP Women category, Britain's leading lady Emma Bristow (Sherco) got the defence of her crown off to the best possible start with a demolition of her rivals to stamp her authority on the class.
Following an enforced delay due to COVID-19, the series kicked off with a full-house of classes and 2018 champion Matteo Grattarola (Beta) from Italy emerged as a clear winner in Trial2, home hero Naomi Monnier (Beta) claimed a hard-fought win in Trial2 Women, Spain's Pau Martinez (Vertigo) topped Trial125 and Gael Chatagno (Electric Motion) from France took an electric-shock win in the TrialE category.
Staged 2000 metres above sea level under a fierce sun, the sections mostly comprised imposing rocks under trees on a super-steep hillside. The dry conditions ensured that grip on the huge boulders was plentiful but loose ground in between meant traction was hard to find.
The toughest hazard for the premier TrialGP class was section nine, plotted along a stream with an under-cut step making for a challenging exit. With the opening lap scrapped for all classes due to time issues, Bou – who's aiming for his 14th consecutive title – dropped half of his four marks lost on observation here with single dabs on both scored attempts. These, coupled with an additional two time penalties, brought his final total up to six which still gave him a five-mark winning margin over his young compatriot Jaime Busto (Vertigo).
Jeroni Fajardo (Sherco) filled the final podium position on 14 with Adam Raga (TRRS) and Jorge Casales (Gas Gas) completing an all-Spanish top-five ahead of Japan's Takahisa Fujinami (Repsol Honda). "After a very strange season because of COVID I was pushing very hard and I'm very happy to start with this victory," said Bou after recording a record-breaking 113th TrialGP win. "Tomorrow I need to push again."
Bristow, attempting to secure her seventh TrialGP Women title in a row, parted with just three marks to run out a comfortable winner from the Spanish pairing of Berta Abellan (Vertigo) who lost 10 and Sandra Gomez (TRRS) who ended the day on 19. "I'm happy to be on the top step today," said Bristow, who hasn't lost a World Championship event since the final round of 2017. "It's been quite an easy Trial so it's been mentally challenging as well as physically with the high altitude but I was riding well so I'm happy."
Veteran Grattarola, who lost out on last year's Trial2 title at the final round, parted with just a single mark on section six on lap two to get his campaign to regain his championship crown off to a flying start.
Next best was France's Alexandre Ferrer (TRRS) – who was third in 2019 – on seven, three marks clear of Spain's Pablo Suarez (Montesa). Britain's Toby Martyn (TRRS) – one of the pre-event favourites – could only manage 11th, 18 marks behind the winner, following an unhappy day in the mountains. "I feel I was riding perfectly today and it was very important for me to win the first round," said Grattarola. "It's been very hectic with a new bike and a new team but all the training is paying off."
Monnier, who contested just one round in 2019, was all smiles after taking a two-mark win over Italy's Andrea Rabino (Beta) in Trial2 Women with third-placed Lenna Volpe (TRRS) from France a further six adrift. "It's been a good day for me today," said Monnier, "and I hope it's the same for tomorrow."
Martinez, who ended last season in sixth, rose to the occasion today to record a total of 12 marks lost in Trial125 – eight clear of the Czech Republic's David Fabian (Beta) and nine ahead of Leo Guiraud (Beta). "I'm feeling really good," said Martinez. "At first it was difficult and then I improved. I was nervous at the start but if tomorrow is like today it will be perfect."
The FIM TrialE Cup for electric motorcycles was expected to be a cakewalk for defending champion Albert Cabestany (Gas Gas) but a maximum on section eight proved to be expensive for the veteran Spaniard and handed a six-mark win to Chatagno with his compatriot Julien Perret (Electric Motion) claiming third on 11. "It was almost perfect for me so a good day," said Chatagno. "I want to thank all my team for their assistance. It's really cool."