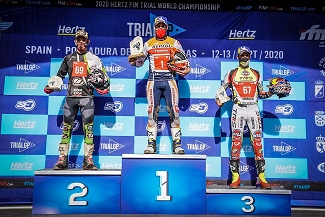 Defending champion Toni Bou (Repsol Honda) bounced back to his brilliant best on the opening day of the Spanish TrialGP – round two of the 2020 Hertz FIM Trial World Championship – at Pobladura de las Regueras in the North West of the country. The sensational Spaniard, who's aiming to make it a record-breaking 14 consecutive titles this season, slipped to a shock defeat – his first since June 2018 – last time out in France but on home turf he proved to be unbeatable as he quite simply out-rode his opposition to extend his lead at the top of the points standings.
In TrialGP Women, reigning champion Emma Bristow (Sherco) – who's gunning for her seventh-straight title – backed up her double win last weekend at Isola 2000 in the French Alps with a clear-cut victory as Italy's Matteo Grattarola (Beta) bossed Trial2, his compatriot Andrea Rabino (Beta) took a commanding victory in Trial2 Women and Spain's Pau Martinez (Vertigo) made it three wins from three starts in Trial125.
On a high-scoring day with huge rocks and steep climbs and descents taking plenty of marks, Bou – who was riding with an arm injury – edged out a slim one-mark advantage over Adam Raga (TRRS) on the opening lap of 10 sections before getting on the gas on laps two and three to underline his dominance. His eventual total of 28 saw him come home 21 marks clear of Jaime Busto (Vertigo) with Raga a further eight off the pace.
The biggest mark-taker was section nine in a river that featured a huge step. Bou parted with two maximums here before recording a single mark on his way to a fantastic final lap total of three. "It's been a nice day for me although my condition is still not 100 per cent," said Bou, "but I focussed on every section and this victory is very important to me."
Gabriel Marcelli (Montesa), last year's Trial2 champion, displayed his incredible potential in fourth another 11 behind Raga with Miquel Gelabert (Gas Gas) taking fifth on a tie-break from Jeroni Fajardo (Sherco) after the pair ended the day locked together on 69 to complete the Spanish dominance of the top-six.
Britain's Bristow has been the first lady of Trial since 2014 and she showed no signs of relaxing her grip on the TrialGP Women title today. Riding an eased course, the 29-year-old's total of 37 was 25 ahead of Spain's Sandra Gomez (TRRS) with Berta Abellan (Vertigo) taking third on 64. "It's been a good day for me," said Bristow. "I have ridden well and I'm looking forward to tomorrow and hopefully the same result."
After trading wins in France with Alexandre Ferrer (TRRS), Grattarola – the 2018 champion – had a point to prove in Trial2 and the veteran held his nerve after a super-close opening two laps to come home seven marks clear of Pablo Suarez (Montesa) from Spain with Ferrer keeping his title hopes alive in third another mark of the pace. "A very good day for me," said Grattarola. "It's been very slippery and difficult but hopefully tomorrow will be harder which will suit me more. Thank you to my team, my sponsors and my family for their support." Britain's Jack Peace (Sherco) held the lead after the first lap but slipped back to fourth, one position ahead of his fellow countryman Toby Martyn (TRRS).
Rabino's win backed up her victory on day two in France to give her the championship lead in Trial2 Women with her total of 16 earning her a clear win from Britain's Alicia Robinson (Beta) who brought it home in second on 27, six ahead of French rider Lenna Volpe (TRRS). "The sections were very good for me but they were hard," said Rabino. "I'm very happy and hope to get first place tomorrow." Naomi Monnier (Beta) from France had started the day tied for the championship lead but a fourth-placed finish proved costly to her title hopes.
A double winner in France, Martinez continued to make his presence felt in Trial125 and his score of 18 was six ahead of fellow Spaniard Pau Dinares (Vertigo). Harry Hemingway (Beta) – a cousin of Trial legend Dougie Lampkin – claimed his first podium finish in third on 29. "I'm really happy with my third win of the championship," said Martinez. "The sections were good and I think a little bit more difficult than in France because it was slippery in the river but that's good because if you make a mistake it's possible to recover. We will keep pushing."