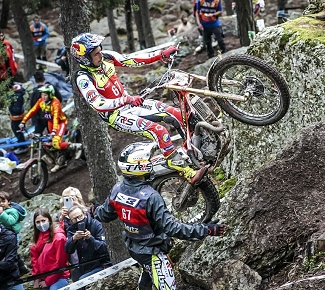 Adam Raga (TRRS) kept his hopes of a third TrialGP title alive with a decisive victory over defending champion Toni Bou (Repsol Honda) on the opening day of the Andorran TrialGP – round three of the 2020 Hertz FIM Trial World Championship – at Sant Julià today. Competing at altitude, Britain's Emma Bristow (Sherco) strengthened her claim to a seventh consecutive TrialGP Women title with a comprehensive victory while Matteo Grattarola (Beta) from Italy extended his lead in Trial2, French rider Naomi Monnier (Beta) took control of Trial2 Women and her compatriot Leo Guiraud (Beta) claimed a debut win in Trial125.
Notorious for its huge boulders set in an imposing, steep-sided valley, rain made conditions very tough for the best Trial riders on the planet in Andorra as the normally grippy rocks developed a glassy surface that meant traction was almost impossible to find. Bou had led from the get-go in the premier class but on the highest-scoring day we've seen so far this season his fellow Spaniard kept him in check. Then, on the third and final lap, Raga put in a devastating performance to claw back a deficit of five marks and run out winner on a total of 50 – six clear of the defending champion who recorded four maximum scores on lap three. "I'm very happy with this victory," said Raga. "Obviously it is very hard here because Toni knows the terrain very well but I rode very well with few mistakes in slippery conditions so it was good for me."
Jorge Casales (Gas Gas) was third on 73, six ahead of 2019 Trial2 champ Gabriel Marcelli (Montesa) who continues his meteoric rise to the top with Britain's James Dabill (Beta) breaking the Spanish domination of the top-five on 82. With three points-paying days to go in the series, Bou's lead at the top of the standings has been slashed to just seven points as Raga – FIM TrialGP World Champion in 2005 and 2006 – closes in on his long-term rival.
Bristow, who's undefeated since the final round of 2017, has been in charge since the delayed start to the 2020 season and she was in no mood to let her grip slip today. Her opening lap total of seven put her eight marks clear of Spain's Sandra Gomez (TRRS) and a sensational second lap of one increased her advantage to 36 as her rival struggled in the testing conditions. On her final lap the 29-year-old added another four to her total to end the day on 12, a full 45 marks in front of Gomez with Berta Abellan (Vertigo) from Spain filling the third step on the podium on 59 so with just tomorrow's action to go Bristow appears to be in an unassailable position. "I've ridden really well today," said Bristow, "and I'm happy with how it's gone. Last week and the week before I didn't feel I was at my best but today I was. I've got a good feeling now and just need one point to take the championship. The rain made me feel like I was at home and everything was slippery. You couldn't take anything for granted."

Grattarola's consistency has been a key factor this season and the veteran – Trial2 champion in 2018 – hasn't finished lower than second in 2020 and claimed his third win of the campaign. France's Alexandre Ferrer (TRRS) bounced back from a disastrous second day at round two in Spain to claim the runner-up position 11 marks behind on a total of 51 with British rider Jack Peace (Sherco) securing his first podium of the season on 53. "It's been a good day for me and the win is important for the championship," said Grattarola. "It was very difficult on the first lap. Tomorrow is another day and another competition and I need to win again."
The Trial2 Women class has been too close to call this year but with one day of competition to go in the championship Monnier finally broke free in the Pyrenees principality and her total of 52 gave her an 11-mark win over Britain's Alicia Robinson (Beta) but – more importantly – a six-point lead over Italy's Andrea Rabino (Beta) who led heading into the event but could only manage fifth today. Robinson, winner of the second day in Spain, fought hard and is now only one point behind Rabino in the championship chase as Martina Gallieni (TRRS) from Italy completed today's podium. "I'm really happy to take the win today," said Monnier. "It wasn't an easy course but I rode well to take my second win of the season. I will try to do this again tomorrow so I can win the championship."
Pau Martinez (Vertigo) headed into Andorra with a perfect four-from-four record but he tasted defeat for the first time this year as Guiraud emerged on top with his score of 37 giving him the win by 10 marks from the Spanish teenager as David Fabien (Beta) from the Czech Republic ended the day in third on 52. "It's mega to take my first victory," said Guiraud. "I'm very happy and it's very cool to win. The rain made it hard today but I think it suited me."
The action continues tomorrow when both women's titles will be decided before the final round for the TrialGP, Trial2, Trial125 and TrialE classes at the Italian TrialGP at Lazzate on October 9-11.