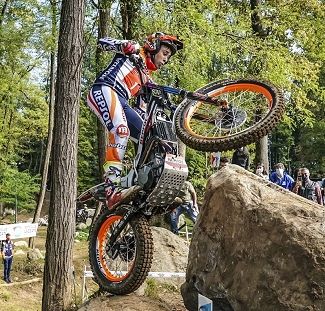 Toni Bou (Repsol Honda) put the 2020 Hertz FIM Trial World Championship premier TrialGP crown beyond reach of his rivals to make it 14 consecutive titles following a dramatic opening day of the Italian TrialGP at Lazzate.
In Trial2 it was season-long pace-setter Matteo Grattarola (Beta) who tied up the title on home ground with one points-paying day still to go and Spanish teenager Pau Martinez (Vertigo) followed suit in Trial125 but there's still everything to play for in the FIM TrialE Cup.
Heading into the boulder-strewn final round of the 2020 championship, defending champion Bou carried a comfortable 10-point lead over his fellow Spaniard Adam Raga (TRRS). If Bou was to record his fifth win of the season, Raga would need to finish fifth or higher to take the title fight into the final day. The last time Raga finished outside the top-five was in 2012 so the odds were stacked in favour of the championship going down to the wire. However, Raga looked unsettled for most of the day and eventually came home a distant seventh – his lowest-placed finish since 2003 – so despite winning twice this season it was game over for another year for him.
Bou was in control from the get-go on a challenging opening lap. Rain last week meant that the ground was initially quite soft and the imposing rocks were made even harder when mud was dragged onto them, meaning grip was hard to find.nBou's first-lap total of 21 gave him an early five-mark lead over compatriot Jaime Busto (Vertigo) with Raga third on 28 before, as we've seen so many times before, the greatest rider in the history of Trial simply moved up a gear. With conditions rapidly drying out, his second-lap total of just seven extended his advantage over Busto to 13 before he signed off with a final-lap score of nine. "I didn't expect to win the championship today," said Bou. "It was a strange day because Adam made many mistakes and after the second lap I saw that it was a good opportunity to take the championship. It's been a strange year but to win the title again makes it very special for me."
Bou's final winning score of 39 was 22 marks clear of Jorge Casales (Gas Gas) who overhauled Busto with a super-strong final lap of just 11. Busto ended the day a further five marks adrift in third with evergreen Japanese contender Takahisa Fujinami (Repsol Honda) matching his best finish of the season with a close-fought fourth from Jeroni Fajardo (Sherco).
The purpose-built Trial Park is new to the championship calendar but Grattarola has won there before and used this experience to great effect, running home winner on just four marks lost and carding an unblemished final lap in the process. The victory means that the veteran has regained the title he first won in 2018. "It was very important for me to win the championship," said Grattarola, "and I'm very happy for me, for my team and for my family. It was a good event with great sections and organisation. Tomorrow is another day and if possible I'd like to win."
Spain's Aniol Gelabert (TRRS) came home in second, 27 marks behind Grattarola but 10 ahead of third-placed Sondre Haga (TRRS) from Norway. France's Alexander Ferrer (TRRS) still holds second in the championship table, despite finishing all the way back in a disappointing 12th.
Martinez has bossed the Trial125 class since the opening round and although he took a pair of second-placed finishes last time out at the Andorran TrialGP he still led France's Leo Guiraud (Beta) by a very healthy 23 points at the start of the day. As it was his main challenge came from Spain's Alex Canales (TRRS) who trailed Martinez all day before a fantastic last lap total of just two pulled him to within four marks of the new champion at close of play. Britain's Jack Dance (Gas Gas) matched his third-placed finish on day two in Andorra but was 16 marks behind Canales as the leading pair pulled clear of the chasing pack. "It's been a good day," said Martinez. "There was a lot of pressure on the last lap but I'm very happy to win the championship. We still have tomorrow but today was the important day."
The closest battle this year has come in the FIM TrialE Cup where defending champion Albert Cabestany (Gas Gas) started the season as favourite before being beaten into second on both days at the French TrialGP by local hero Gael Chatagno (Electric Motion). It was too close to call heading into Lazzate – Chatagno's day-two win in France was on a tie-break – but the veteran Spaniard, who at 40 is 16 years older than his French rival, used his wealth of experience to run out a clear winner by 18 marks. "It was a good day for me," said Cabestany. "I rode quite consistently during the whole day with just a few small mistakes because the conditions were quite slippery on the first lap. I needed the victory today if I wanted to have a chance of winning the championship." If the result is repeated tomorrow then both men will be tied on 74 points with Cabestany taking the title on a tie-break determined by the best result on the final day of competition.