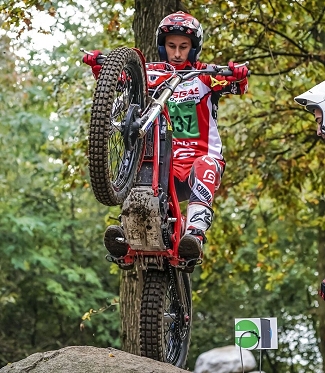 Spanish veteran Albert Cabestany (Gas Gas) completed a sensational comeback to retain the FIM TrialE Cup on a tie-break on the last day of competition at the Italian TrialGP, the fourth and final round of the 2020 Hertz FIM Trial World Championship, at Lazzate. In the premier TrialGP class, the now 14-time champion Toni Bou (Repsol Honda) signed off on top with a clear-cut win. However, there were shocks in store in Trial2 and Trial125 where Matteo Grattarola (Beta) and Pau Martinez (Vertigo) – who both sewed up titles yesterday – lost out as the British pairing of Toby Martyn (TRRS) and Jack Dance (Gas Gas) ended the series on a high.
Trailing Gael Chatagno (Electric Motion) by six points heading into Italy after twice finishing second behind him at the opening round in France at the start of September, 40-year-old Cabestany backed up his win yesterday with another victory today. The result left the pair tied on 74 points with Cabestany retaining the title by virtue of his better result on the final day of competition. It was always going to be a two-horse race between Cabestany and Chatagno and the Spaniard took control on an opening lap made difficult by a brief spell of overnight rain that left the sections super-slick. His total of five marks lost on lap one was half that incurred by the 24-year-old Frenchman and a clean second lap helped him to extend his advantage to 10. Both riders went clean on their third laps but the damage had already been done and the FIM TrialE Cup was heading home with Cabestany. "It is fantastic," said Cabestany. "It is an amazing end to quite a strange season. We didn't start out the way we wanted to and Gael has been a very, very tough competitor but the team has made improvements to the bike, we've practised hard and we are all so, so happy."

Fresh from securing a record-breaking 14th consecutive crown yesterday, Bou clearly meant business from the get-go. With conditions treacherous on lap one as mud was dragged onto the imposing rocks, he completed his first circuit for the loss of 11 to open up a nine-mark advantage ahead of Adam Raga (TRRS). Parting with seven marks on lap two and just two on lap three, Bou's final score of 20 put him a commanding 35 marks clear of second-placed Jeroni Fajardo (Sherco) with Jorge Casales (Gas Gas) taking third a further six off the pace after coming out on top of a three-way tie-break. "It's been a solid weekend and I've enjoyed today a lot," said Bou. "On the second and third laps I rode my best. I'm very happy to have won both days and the title and I will enjoy this moment."
Class rookie Gabriel Marcelli (Montesa) narrowly lost out on his second podium finish of the season on a most-cleans tie-break with Casales as Miquel Gelabert (Gas Gas) – who also ended the day on 61 marks lost but with fewer cleans than Casales and Marcelli – completed the all-Spanish top-five. Despite starting strongly, Raga again faded and ended the day in sixth on 63.

With the Trial2 title safely secured, home hero Grattarola started today with no pressure on his broad shoulders but while he eased back, Martyn and Italy's Gianluca Tournour (TRRS) scrapped it out at the front of the field. Matching each other almost blow-for-blow, the pair completed the first lap locked together on nine and then posted identical scores of 10 apiece on the second lap before Martyn eventually broke free with his final lap score of four giving him a three-mark winning margin. "It's been a hard year but today has topped it off and I'm really happy to get a win," said Martyn. "I haven't had the best of seasons and I wouldn't say I am massively happy with how I've ridden but today I've pulled it together." After picking up 27 marks on the opening two laps, Grattarola's final lap total of just one penalty gave him third on a most-cleans tie-break with Spain's Aniol Gelabert (TRRS) as class rookie Hugo Dufrese (Vertigo) from France claimed a season-best finish of fifth on 35.
It was super-close in the Trial125 class with just three marks separating the top-four finishers. On the day Dance continued his great late-season run of form with his first win of the year on 40, one mark ahead of compatriot Ben Dignan (Vertigo) who took second from Spain's Alex Canales (TRRS) on a tie-break with Martinez another two behind on 43. "On the first lap my score was quite high," said Dance, "so I had to work hard on the second lap. On the third lap I came out of the last section and everyone cheered because I'd won but I didn't know at the time. It's a brilliant feeling and a brilliant day."