Sherco Importers, Malcolm Rathmell Sport, are delighted to announce their very popular Sherco Weekend Extravaganza which will take place this year on Saturday, 5th and Sunday, 6th October.

The venue will be just outside Pateley Bridge and details of this will be given very shortly. The Extravaganza Weekend will take a different format from normal this year with the introduction of the full range of Sherco Enduro bikes. With ten different models expected from Sherco for 2014 and the long, anticipated arrival of the 2T range, there will certainly be a lot of interest, judging from the enquiries MRS are receiving on a daily basis.
On the trials front all 2014 models will be available for testing including the 80, 125, 250, 290 and 305 model range. As normal there will be plenty of bikes available to test with MRS and the top Sherco dealers.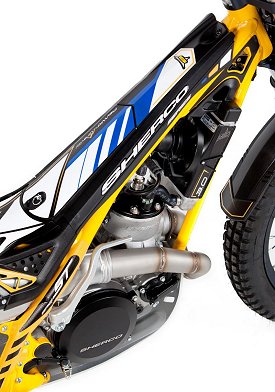 The venue lends itself perfectly for both disciplines and for all Enduro fans there will be a RideOffRoadUK Championship event at the venue on Sunday, 6th October. For anyone wishing to ride please contact the RideOffRoadUK Team on 07576 095137 or by viewing their website at www.rideoffroaduk.co.uk. The ROR team do cater for all classes from novice right through to the expert class.

For the trials fraternity the Ripon club are running a West Yorkshire Group Trial on the Sunday and you can enter this event by downloading the regulations from the Ripon & DMC website. There will be a £4 charge for club membership but they are very happy to welcome any riders who would like to compete.
Both the MRS Trials and Enduro teams will be giving demos through the day and all the top trials and enduro dealers will be there with a full range of bikes to test. Anyone wishing to test a bike can contact their favoured dealer on the MRS website at www.mrsltd.co.uk to arrange a time on the day.

After testing of the bikes the dealers, riders and sponsors will be invited to the normal Sherco Weekend venue at Harefield Hall, Pateley Bridge where there will be a buffet and presentation of riders, sponsors and dealers. Drinks and food will be available from the hotel during the evening so anyone can come along and enjoy the party.
If past years are anything to go by the event should, once again, be a great success and MRS look forward to welcoming everyone along on the day. More details will follow shortly with venue details and any updates which will be added to the event.