Hot on the heels of our exclusive interview with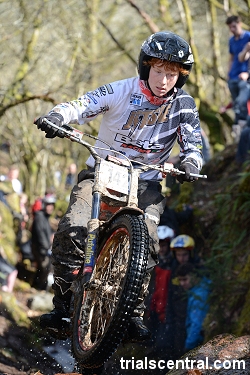 popular Swede, Eddie Karlsson on his thoughts about his first Scottish Six Days Trial, Trials Central caught up with another young hopeful in the form of Beta-mounted Jack Sheppard to get his thoughts ahead of the 2014 Scottish. The 20 year-old Jitsie-sponsored youngster from Ipswich rose to fame back in 2011 when he won the FIM 125cc Trial World Championship. Since then he has progressed through the ranks of the Junior Championship and is now a familiar face in the FIM Trial World Championship.
TC: Jack, it's only a week now until the Scottish Six Days Trial. What are your thoughts about heading up to Fort William again?
JS: I'm looking forward to it. It's always a good event. It's a long week though so anything can happen. I'm looking to start off a bit better than I have done previously and then hopefully continue that through to the end of the week.
TC: Obviously you missed it a couple of years ago due to your wrist injury and last year finished in seventeeth place. What are your hopes for this year?
JS: As high as possible, really. The top five. I'd be really happy with that, but top ten is a really good result at the Scottish because there are so many riders that are consistent in the streams and with the slippery rocks you've got to have a bit of luck on your side to have a good week.
TC: Does it make it easier now you're riding no-stop all year to adapt to the Scottish Six Days Trial?
JS: It does a bit. It keeps it flowing, but it's a different style of section. Scotland is a one-off. There's not many times all year you ride in streams so it helps a little, but it's still a fair bit different.
TC: What about your bike for this year? Is that going to be the same as you use in the world championship or something a bit softer?
JS: It'll definitely be a bit softer. My World Championship bike is a bit quicker, but I don't need that level of power for Scotland. It needs to be more smooth and controllable up the slippery streams.
TC: Is there one group of sections that is your favourite throughout the week? Any that stand out for you?
JS: I find it hard to keep track of which sections are which up there because you ride so many through the week! There's a few tough groups and I'm sure this year will have a few surprises in store.
TC: There's may be a lot of unfamiliar sections, but there are a lot of familiar faces. A lot of guys from the Eastern Centre who observe up there every year. Do they help you out with the lines?
JS: Yeah, it's always nice when you're doing long distances every day just to see familiar faces and speak to people you know. It's always handy to know the lines other riders have taken so, yes, it's useful if you see people you know and they help you out.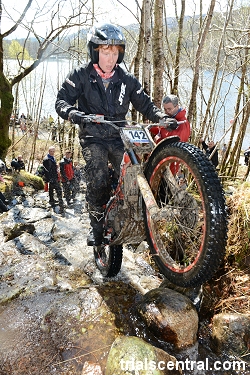 TC: Tell us the best thing about the Scottish Six Days Trial.
JS: I think just the length of it really because anything can happen on each day so you've got to be really consistent and the places you see and get to ride through, you'd never get to see otherwise.
TC: And the worst thing?
JS: The weather a lot of the time! You never know what you're going to get up there. It's very rare you get a nice week, all week. It would be good if it was this year though!
TC: So how does a rider who comes from Suffolk, which is mostly sand, prepare for the Scottish Six Days Trial?
JS: Get away from home generally! Try and get out on some rocks – Scotland, Yorkshire – anywhere with streams really.
TC: Thanks for your time, Jack. We'll see you up in Scotland!
Copyright Trials Central. Produced in partnership with G2F Media. Images from Trials Central collection, 2013 SSDT.